Big Brother Naija fans have taken to social media to disapprove and condemn Tacha and her team for dancing on the runway during her catwalk presentation at the OPPO mobile fashion show yesterday.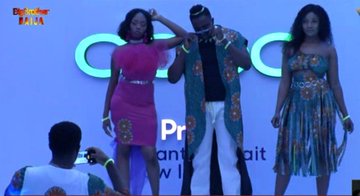 Tacha who decided to be goofy on the walkway alongside Khafi and Sir Dee has got so many negative comments from viewers on twitter because she and her team danced on the runway.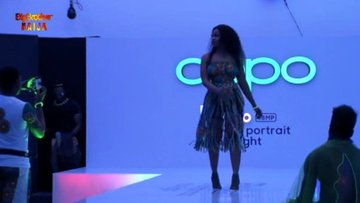 According to them, models should not dance during a catwalk show.
Some of the viewers think Tacha and her crew did too much and they do not deserve to win because they did what they were not supposed to do. Some think it very unprofessional while others think they were being creative.
Watch the video below:
😍😍😍😍I love this group. Attitude!!!
Tacharistics.#BBNaija pic.twitter.com/e1V4BnZAF3

— Bumble. Ike Tacha Diane Sir Dee (@GOODGIR21546689) August 8, 2019
Check out some comments gathered from Twitter below:
Team Tacha!#BBNaijahttps://t.co/Fs747giz42
Powered by @oppomobileng. pic.twitter.com/vK0MHcjMGl

— Big Brother Naija (@BBNaija) August 8, 2019
Team Tacha!#BBNaijahttps://t.co/Fs747giz42
Powered by @oppomobileng. pic.twitter.com/vK0MHcjMGl

— Big Brother Naija (@BBNaija) August 8, 2019
Team Tacha!#BBNaijahttps://t.co/Fs747giz42
Powered by @oppomobileng. pic.twitter.com/vK0MHcjMGl

— Big Brother Naija (@BBNaija) August 8, 2019
Team Tacha!#BBNaijahttps://t.co/Fs747giz42
Powered by @oppomobileng. pic.twitter.com/vK0MHcjMGl

— Big Brother Naija (@BBNaija) August 8, 2019
Team Tacha!#BBNaijahttps://t.co/Fs747giz42
Powered by @oppomobileng. pic.twitter.com/vK0MHcjMGl

— Big Brother Naija (@BBNaija) August 8, 2019
Team Tacha!#BBNaijahttps://t.co/Fs747giz42
Powered by @oppomobileng. pic.twitter.com/vK0MHcjMGl

— Big Brother Naija (@BBNaija) August 8, 2019
CLICK HERE TO JOIN OUR WHATSAPP GROUP FOR LATEST MUSIC AND CELEBRITY GIST UPDATES
CLICK HERE TO JOIN OUR TELEGRAM CHANNEL FOR LATEST MUSIC AND CELEBRITY GIST UPDATES
Upload Your Song
Click here to see more post about 👇
Be the first to comment